A DAO (decentralized autonomous organization) is an internet community built on the blockchain that organizes around a shared mission they want to accomplish.
Upstream's no-code DAO builder makes it simple to launch and manage a DAO without needing any technical experience. Think Wix or Squarespace for DAOs.
The complicated tech stack for DAOs is streamlined into one platform with your governance, treasury, token gating, voting, and chat all in one place.
With Upstream, you can focus on what matters for your community without wasting time switching between platforms and trying to build things yourself.
Used by blue chip NFT projects, sophisticated investment clubs, and social clubs alike, Upstream DAOs is beloved by web3 communities big and small.
Read more about Upstream in Forbes, TechCrunch, Fortune, HBR, Protocol, The Block, CoinDesk, and more!
Want to learn more? Check out a video walkthrough of a DAO on Upstream here: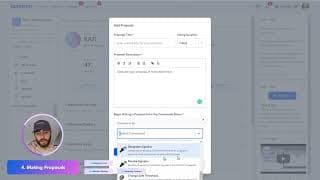 Have questions? Email us at [email protected].